Own production capacities
Quality, ecology and safety
Main company goal is to provide high product quality and consumer satisfaction. The range of products from our own production includes Perex, Max Clean and Hellena. Each of these brands is created with special care by choosing components from worlds suppliers and recipes where quality is imperative. Besides mentioned brands, our product range is complemented by brands Limko, Nevenx, Kissal i Atom which are already present at the market.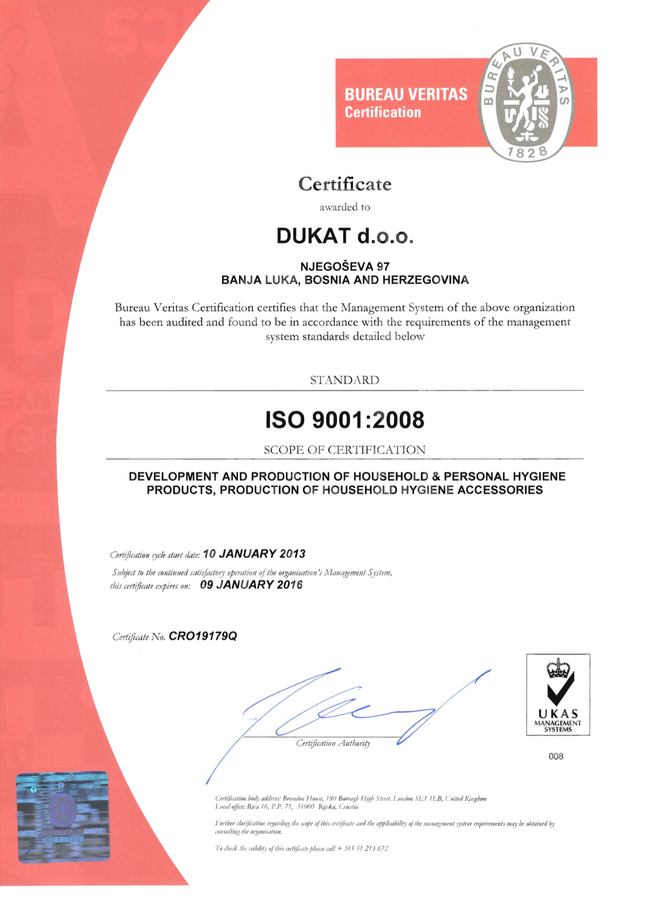 Dukat d.o.o. has an ISO 9001:2008 certificate and we work to achieve constant improvement of the overall business, service quality and products.
ISO 9001:2008 is an internationa standard dedicated to quality management systems (QMS). It is emphasized by a quality improvement framework and understanding system for any organization that wants to provide products and services that consistently meet the requirements and expectations of customers and other relevant stakeholders in the most efficient way possible. QMS is a set of all processes, resources, assets and cultural values ​​that support company's goal – customer satisfaction and organizational efficiency.

With its activities, Dukat d.o.o. follows the principles of ISO standardization, such as:
– Adoption of standards in response to clear market requirements;
– Adoption of new practices based on the opinion of international experts. Technical Committee then decides on the scope and content of the standard;
– Adoption of standards according to process involving more stakeholders, including consumer associations, academics, NGOs and the public sector.